Xirrus XR-2230 High Density Modular Access Points

Designed With Ultra Performance And Density
Cambium Networks have acquired Xirrus! For the latest Xirrus' products please visit our Cambium Networks site.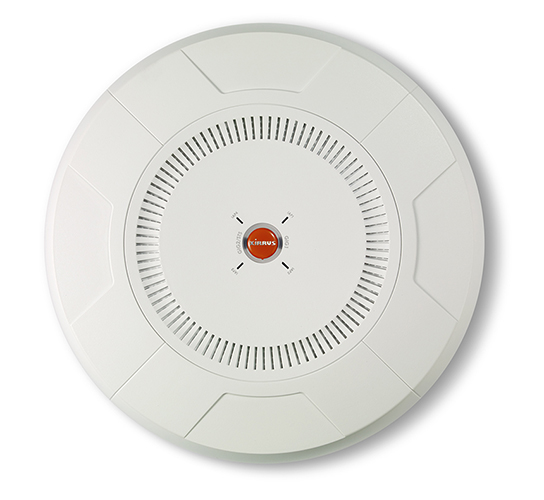 Overview:
XR High Density Modular with 2 450Mbps 802.11n modular radios and 2 expansion slots.
Includes: 4-slot chassis supporting up to 4 modular radios, 2 450Mbps modular radios with high gain directional antennas and 5GHz/2.4GHz operation, 2 expansion slots for addition of 802.11ac or 802.11n modules.
Integrated wireless controller with 10 Gbps capacity.
1 10/100/1000 Ethernet Uplink.
AOS operating system including automatic RF tuning (channel, cell size), wireless IDS/IPS, stateful firewall, multicast video optimization, WDS point-to-point, RADIUS server, captive portal, and much more.
Requires purchase of PoE injector supporting 70W or more power.
Includes 5 year Hardware Product Warranty with return and repair.
Order SU-HW-XR-2230-x for advanced replacement support.
Includes 90 day Software Product Warranty.
Order SU-AOS-XR-2230-x for software upgrade support.
The XR-2000 series of high-density access points delivers high-powered performance by integrating 2 or 4 modular radios, high-gain directional antennas, a wireless controller, firewall, and threat sensor into a single device. The XR-2000 series gives you the flexibility to choose the radio configuration that's right for you with 2×2 (867Mbps) or 3×3 (1.3Gbps) 11ac options,
The XR-2000 series is our most affordable high-density AP. Even better, the XR-2000 series' modular radios make upgrades easy which enables a future-proofed network design. They are upgradable to Wave 2 802.11ac and ideal for classrooms, auditoriums, libraries, training centers, or other areas with a high density of wireless users.
Every Xirrus Access Point Wi-Fi installation is easily customized with accessories, from deployment kits to enclosures to mounting options, so you can build the system that works best for you.
Benefits
Upgrade without replacing access points
Cloud-managed Wi-Fi ensures simple deployment and application control
Distributed intelligence for no single point of failure
Your network grows with you—it's a snap to add or reprogram radios
What Makes Xirrus Different?
Xirrus High Density Modular Access Points are the only modular and fully upgradeable Wi-Fi Access Points on the market that empower four times faster upgrades in capacity and the ability to upgrade Wi-Fi standards with the click of a mouse. Xirrus High Density modular access points reduce the amount of equipment deployed by 75 percent and decrease total cost of ownership by up to 50 percent versus competing products.
At a Glance
Up to 16X the 11ac Wi-Fi capacity of traditional APs
11ac Wave 2 upgradable platform protects investment
Instant 11ac performance boost with TurboXpress
No central controller, no single point of failure
Control applications at the edge
Benefits:
Fast and Easy Capacity Upgrades
Add more capacity to Xirrus modular APs with snap in radio options. Xirrus radios are the fastest and easiest way to add capacity to any Xirrus Wi-Fi network by simply increasing the number of radios within the existing casing. Xirrus Modular APs upgrade without complete hardware replacement, reducing costs and extending solution lifespan.
Unprecedented Scalability
Xirrus High Density Modular APs are available with 2-16 radios and provide up to 8 time the capacity of traditional 802.11ac access points to meet the high density, high capacity demands of today's Internet of Things (IoT).
Lower Total Cost of Ownership
Xirrus High Density APs support hundreds of devices with a single access point, eliminating 75% of Wi-Fi infrastructure. Fewer APs means less cable and fewer switch ports, reducing your total cost of ownership by 30% or more.
Simplified Application Control
Deep Packet Inspection (DPI) technology lets you control 1,400 applications at the network edge in every AP, giving you complete application visibility and control. Applications or groups of applications can be prioritized, blocked, or throttled to ensure consistent performance for critical Wi-Fi usage. Policies can be scheduled by device or across the network at specified times and days.
Boost Performance on Demand
Xirrus delivers the only Wi-Fi solution in the world that can instantly increase performance with the push of a button. With TurboXpress you can immediately convert every AP into a 100% 802.11ac AP. Plus, acXpress lets APs automatically adjust to each device's capability to optimize user experience.
Powerful Services
Xirrus High Density Modular Access Points enable a powerful suite of services to optimize your Wi-Fi network. EasyPass provides access control for users connecting to the network, whether they are guests or employees onboarding their personal devices. Bonjour Director provides Apple devices easy access to Apple services across the network.
Comparision:
Right Sized Wi-Fi For Every Use
| Model | XR-320 | X2 | XR-600 | XD2 | XD4 | XR-2000 | XR-4000 | XR-6000 |
| --- | --- | --- | --- | --- | --- | --- | --- | --- |
| Max Number of Radios | 2 | 2 | 2 | 2 | 4 | 4 | 8 | 16 |
| Technology | 11ac Wave 1 | 11ac Wave 1 | 11ac Wave 1 | 11ac Wave 2 | 11ac Wave 1 | 11ac Wave 1 | 11ac Wave 1 | 11ac Wave 1 |
| Technology Upgradable | NA | NA | NA | NA | NA | 11ac Wave 2 | 11ac Wave 2 | 11ac Wave 2 |
| TurboXpress (all radios 11ac) | NA | NA | Yes | Yes | Yes | Yes | Yes | Yes |
| Controller | Integrated | Integrated | Integrated | Integrated | Integrated | Integrated | Integrated | Integrated |
| Uplinks | 1 GigE | 1 GigE | 2 GigE | 2 GigE | 2 GigE | 2 GigE | 2 GigE | 4 GigE/1-10 GigE |
| Example Uses | Hotels / Dorms / Hospitals / Offices | Offices / Hotels / Classrooms / Retail | Offices / Classrooms / Hospitals / Retail | Dense Offices / Classrooms / Hospitals | Dense Offices / Classrooms / Conf Rooms | Dense Offices / Classrooms / Conf Rooms | Libraries / Auditoriums / Conventions | Auditoriums / Conventions / Arenas |
Outdoor Wi-Fi Portfolio
| Product Series | XR-520H | XH2 |  XR-2425H |  Outdoor Enclosures / HD Access Points |
| --- | --- | --- | --- | --- |
| Number of Radios | 2 | 2 | 4 | 4-16 |
| Technology | 802.11n | 802.11ac | 802.11n | 802.11ac |
| Technology Upgradable | NA | NA | NA | Yes – 11ac Wave 2 |
| TurboXpress (all radios on 5GHz) | Yes | Yes | Yes | Yes |
| Controller | Integrated | Integrated | Integrated | Integrated |
| Uplinks | 1 GigE | 2 GigE | 2 GigE | Up to 4 GigE & 1-10 GigE |
| Example Uses | General Coverage / Warehouses | General Coverage / Stadiums/Arenas | Outdoor Event Venues / Stadiums/Arenas | Outdoor Event Venues / Stadiums/Arenas |