Xirrus XI Series 802.11ac Module

Gigabit speed radio modules for Arrays
Cambium Networks have acquired Xirrus! For the latest Xirrus' products please visit our Cambium Networks site.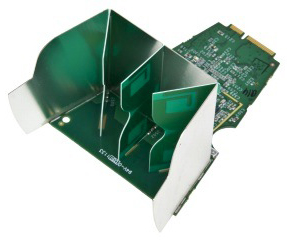 Overview:
The Xirrus XI Series 802.11ac Wireless modules are configured into Xirrus XR series Arrays to provide best-in-class connectivity supporting the growing demands of smartphones, tablets and laptops. The modular architecture saves you the time, resources and money as the wireless technology transitions from one standards to the other – you simply swap out the legacy modules with the new modules without having to replace the entire platform.
As businesses continue to increase mobile device adoption and migrate applications to mobile platforms, users are demanding higher performance wireless connectivity to the network. 802.11ac is the next step in the evolution of standards to meet this demand for higher bandwidth and capacity. 802.11ac solutions are being brought to market in multiple waves:
Wave 1 solutions deliver up to 1.3Gbps bandwidth compared to 450Mbps with 802.11n standards.
Wave 2 solutions take 802.11ac further to deliver a max data rate of up to 6.9Gbps.
An 802.11ac based Wi-Fi network can deliver switch-like simultaneous data transfers across multiple users. Mobile users can experience application performance similar to that of the wired network. Enterprises can deploy high bandwidth applications like video and collaborative tools to BYOD users.
The Xirrus XI 802.11ac Wireless Access Points are modular devices configured into Xirrus XR series Arrays that provide best-in-class connectivity supporting the growing demands of smartphones, tablets and laptops. The XI 802.11ac APs enable organizations to meet the performance needs of their users and the RF management needs of business. Available in a Wave 1, 1.3Gbps module, Xirrus XI 802.11ac modular APs offer superior coverage, bandwidth and reliability.
Highlights:
Provides seamless connectivity for 802.11a/b/g/n/ac devices
Supports 3x3 MIMO with 1.3Gbps client connectivity
Installed in 2, 4, 8, 12 and 16 port Array chassis
Up to 80MHz wide bandwidth support with channel bonding
Software programmable modules operate in 2.4GHz and 5GHz bands.
At a glance
Access Point includes 3 high gain directional antennas focusing the RF signal for maximum range and reliability
Modular design enables future in-place upgrades and network designs that aim RF coverage where needed
Backward compatible and supports 802.11 a/b/g/n/ac Wi-Fi technology
Available in 1.3Gbps (3x3 MIMO) mode
Configurable to operate at 2.4GHz or 5GHz bands to support a wide range of wireless devices
Supports channel bonding with up to 80Mhz channel bandwidth
Multiple operational modes enable the use of an AP for threat detection/packet capture/spectrum analyzer
Xirrus XI Series Modular Wireless Access Points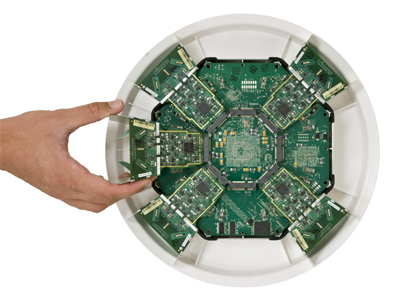 Field swappable APs provide maximum flexibility for upgrades
Benefits:
Simple to Upgrade
The XI 802.11ac AP modules fit into the Xirrus XR Array chassis including the 2-AP XR-1000 all the way up to the 16-AP XR-6000 series. Using the same AP models across all XR Series Arrays provides consistency in capabilities, network services and management regardless of device. Xirrus modular XR Arrays are designed for simple upgradability. The APs within the Arrays can be easily replaced providing ultimate flexibility and longer lifespan for the wireless infrastructure as new technology evolves.
Flexible Deployment
Xirrus XI 802.11ac APs have the ability to switch between User mode and Monitor mode providing multiple operational modes within each Xirrus Array. Any AP within the Array can be switched between modes. In User mode the AP provides device connectivity to the wireless network. In Monitor mode the AP can become a dedicated threat sensor capable of spectrum analysis, packet capture, intrusion detection and intrusion prevention. With a Multi-AP Xirrus Arrays, IT can protect the network with dedicated monitoring without compromising performance.
High Performance with Directional Antennas
Each Xirrus AP maximizes performance and reliability by utilizing specialized high gain directional Yagi antennas that aim coverage and focus the energy of each RF signal. The antennas have a special integrated metallic reflector for isolation between APs allowing for directional beam patterns. This unique antenna configuration enables the AP to minimize correlation between channels and automatically compensate for RF disturbances within the coverage area. Enterprises can cover larger areas with fewer Arrays while providing a Wi-Fi network with high performance connectivity to devices, even low power devices like tablets and smart phones.
Flexible RF Management
Each Access Point is software configurable to help the network engineers design and implement an efficient and reliable wireless network. Configurable parameters of the AP include:
Band selection 2.4GHz or 5GHz
Channel selection (automatic or manual)
Automatic or manual settings of transmit power and receive sensitivity
Traffic shaping controls for packet per second (PPS) or bits per second (BPS) to enable per user traffic or per SSID
The configuration settings provide granular control to optimize the Wi-Fi network for best user experience.
Specifications:
Xirrus XI Series Wireless AP Specifications
Physical dimensions
Height: 2.25" Width: 3.0" Depth: 4.5"
Weight: 1.1 oz
RF coverage
120 degree coverage in 2.4GHz,
90 degree coverage in 5GHz
Radio gain
3dBi gain in 2.4GHz,
6dBi gain in 5GHz
Backplane
2.5Gbps PCIe bus connection
RF Management

Dynamic channel configuration
Dynamic cell size configuration
Transmit power & receive sensitivity configuration
Radio Assurance for radio self test and healing

RF Monitor

In-band per IAP Spectrum Analysis
Threat assessment and mitigation
Wired and Wireless Packet Captures (including all 802.11 headers)

Channel support 2.4GHz*
1 2 3 4 5 6 7 8 9 10 11 12 13 14
Channel support 5GHz*

U-NII-1 Non-DFS Channels 36 40 44 48
U-NII-1 DFS Channels 52 56 60 64
U-NII-2 DFS Channels 100 104 108 112 116 132 136 140
U-NII-3 Non-DFS Channels 149 153 157 161 165

Xirrus Wireless Array compatibility

XR-1000 Series
XR-2000 Series
XR-4000 Series
XR-6000 Series
Array Chassis:
Architectural Components
There are three primary components in the Wireless Array
Dense modular APs
Directional antennas
Distributed intelligence
The better method for growing capacity was solved by the wired switching industry by using chassis with modular blades. Our modular AP platform provides a unique and exceptional value. It can adapt to meet new requirements as your needs change. The Wireless Arrays allow you to:
Add radios to an Array chassis to increase capacity
Reposition radios within a chassis to optimize RF coverage pattern
Migrate radios and users from 2.4GHz to higher performing 5GHz band when ready (all radios are multi-band)
Swap radios to higher performing wireless technology as available (802.11ac and 802.11ad standard)

8 Modular AP Radios for
XR-4000 Series

8, 12 or 16 Modular AP Radios for XR-6000 Series
The flexibility provided by the Wireless Array enables capacity planning without replacement of the Array chassis itself. This ensures a long product lifespan (5+ years) that is adaptive to your business requirements and protects your investment against inevitable increasing capacity demands.
Eight Access Point XR Under the Hood (Depopulates to 4 Access Point Array)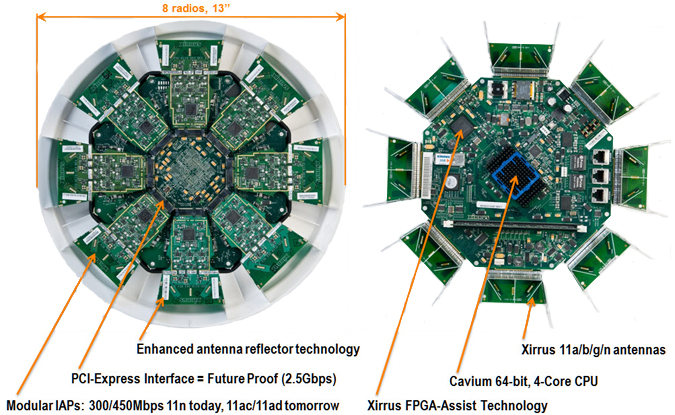 Pluggable modules enable custom RF coverage designs