Xirrus X2-120 Indoor Access Points

Performance That Leads the Industry
Cambium Networks have acquired Xirrus! For the latest Xirrus' products please visit our Cambium Networks site.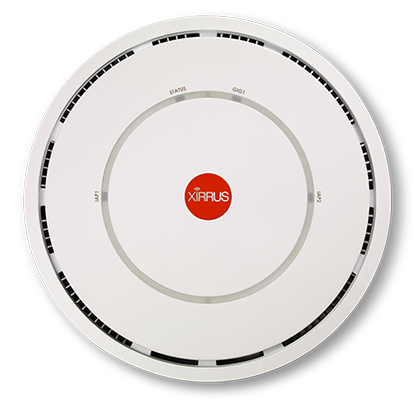 Overview:
X2 802.11ac 2x2 AP with one 5GHz & one 2.4GHz radio. Includes: 1 867Mbps radio with omni-directional antenna using 5GHz operation, 1 300Mbps radio with omni-directional antenna using 2.4GHz operation, 1 10/100/1000 Ethernet uplink port. AOS Lite operating system including RF tuning (channel, cell size), stateful firewall, EasyPass support, and more. Requires power from 802.3at compatible switch or purchase of XP1-MSI-30 (or greater power, excluding the XP1-MSI-33) PoE injector.
The X2 is an ultra low cost and high performance 11ac product which can be managed by XMS-Enterprise or XMS-Cloud. X2 supports EasyPass and is optimized for high performance/low complexity networks such as those in classrooms, hotel rooms, hotspots and SME customers.
To stay relevant in a world where Wi-Fi demand has dramatically increased because of multiple device usage per person, even small and medium size enterprises need to convert their platforms to high performance Gigabit Wi-Fi.
Xirrus offers the lowest price 802.11ac AP in the marketplace with the X2, bringing upgrade affordability to small businesses and branch offices. X2 APs offer plug-and-play simplicity with zero-touch configuration so secure Wi-Fi service can be set up in minutes.
The X2 solution includes a comprehensive set of tools to manage users, devices, applications, and traffic with complete visibility using a simple and easy-to-use management system that can be operated from the cloud or on-premise using a single console.
Benefits
Wi-Fi can be deployed in minutes
Easily managed from anywhere, anytime via the cloud
Scalable, future-proof 802.11ac Wi-Fi solution
Automatic configuration for optimal performance
At a Glance
2x the 11ac Wi-Fi capacity of competitive APs
Programmable radios for dual-11ac operation
Seamless integration with existing networks
No centralized controller eliminates single point of failure
Flexible cloud or on-premise management options
Benefits:
Xirrus Access Point (AP) solutions deliver a superior Wi-Fi experience for today's connected world using a scalable, adaptive platform that protects your investment. Ideal for offices, classrooms, hotels, hospitals, and similar organizations, Xirrus APs provide the most flexible, cost-effective solution for small-to-large enterprise networks.
Fast and Flexible
Xirrus APs deliver industry-leading Wi-Fi performance, providing 100% high-speed 11ac Wave 1/Wave 2 connections and 2x the bandwidth of competitive APs. Xirrus Wi-Fi solutions can instantly boost performance with the click of a mouse to adapt to changing client devices and optimize the user experience. E
Easy to Deploy
Xirrus APs simplify integration with existing network infrastructure using plug-and-play simplicity. Zero-touch provisioning and automatic RF configuration, enable secure and reliable Wi-Fi service in minutes with minimal IT effort.
Simple to Manage
Xirrus APs include a comprehensive set of tools that allow user, device, application, and traffic management with complete visibility. The Xirrus Management System (XMS) operates from the cloud or on-premise from a single console.
Predictable Performance
Performance is predictable with deep packet inspection (DPI) technology which provides complete application visibility within the AP at the network's edge. Over 1,400 applications or groups of applications can be prioritized, blocked or throttled. Policies can be scheduled by device type, user group, SSID, or across the entire network on specified times or days.
Automated Network Optimization
Xirrus optimizes network performance with automatic RF configuration. Xirrus APs automatically choose optimal channels, bands, and power levels without IT intervention. Xirrus APs also customize client connectivity through device-fingerprinting to maximize performance based on device capability.
Simplified Access Management
Xirrus EasyPass Access Services, a free service integrated within Xirrus Management System–Cloud (XMS-Cloud), provides a highly secure, single dashboard solution to to simplify the process of connecting users to the network, including self-provisioned access for guests and easy onboarding of BYOD devices for employees.
Specifications:
With a powerful integrated controller, application level intelligence, zero-touch provisioning, and available cloud-based network management, Xirrus X, XR, XD series Access Points provide powerful Wi-Fi solutions for environments including classrooms, offices, hospitals, hotel rooms, and more. Xirrus Access Points are backward compatible and the latest model supports 802.11ac Wave 2 with Multi-User MIMO. Xirrus APs feature dual software programmable radios that deliver twice the number of 802.11ac radios compared to standard APs.
Configuration Specifications
XR-500
X2
XR-600
XD2
Chassis Dimensions
7.7" Diameter, 2" H
8" Diameter, 1.82"H
7.7" Diameter, 2" H
8" Diameter, 1.82"H
Supported Standards
802.11a/b/g/n
802.11a/b/g/n/ac
802.11a/b/g/n/ac
802.11a/b/g/n/ac (Wave 2)
Total Number of Radios
2
2
2
2
Radio Type
2x2, 300Mbps
2x2, 867Mbps
XR-620: 2x2, 867Mbps XR-630: 3x3, 1.3Gbps
4x4, 1.733Gbps
MIMO Technology
SU-MIMO
SU-MIMO
SU-MIMO
MU-MIMO
Maximum Wi-Fi Bandwidth
600Mbps
1.1Gbps
XR-620: 1.7Gbps XR-630: 2.6Gbps
3.47Gbps
Wi-Fi Threat Sensor
Yes
Yes
Yes
Yes
Maximum Wi-Fi Backhaul
300Mbps
867Mbps
XR-620: 867Mbps XR-630: 1.3Gbps
1.733Gbps
Maximum Associated Devices
480
254
390
390
Wired Uplinks:
802.3ad (Aggregate traffic), broadcast, link-backup (failover), load balancing
1GbE
1GbE
2-1GbE
2-1GbE
Maximum Power Consumption
12.5W
12.5W (PoE)
25.5W (PoE+)
25.5W (PoE+)
Weight
1lb
2lbs
1.6lbs
1.8lbs
RF Management
Dynamic channel configuration Dynamic cell size configuration
Monitor radio for threat assessment and mitigation Wired and Wireless RMON / Packet Captures
Radio assurance for radio self test and healing
RF monitor
2.4 & 5Ghz Honeypot Control – Increase available 2.4 & 5Ghz wireless device density through management of
spurious 2.4 & 5Ghz association traffic.
Re-use and increase wireless device density through tight power controls.
High Availability
Supports hot stand-by mode for mission critical areas
Environmentally Friendly
Supports ability to turn off radios based on schedule configuration
Wireless Protocols
IEEE 802.11a, 802.11ac+, 802.11b, 802.11d, 802.11e, 802.11g, 802.11h, 802.11i, 802.11j, 802.11k, 802.11n, 802.11u, 802.11w
Wired Protocols
IEEE 802.3 10BASE-T, IEEE 802.3.u 100BASE-TX , 1000BASE-T, 802.3ab 1000BASE-T
IEEE 802.1q – VLAN tagging IEEE 802.1AX – Link aggregation IEEE 802.1d – Spanning tree
IEEE 802.1p – Layer 2 traffic prioritization
IPv6 Control – Increase wireless device density through control of unnecessary IPv6 traffic on IPv4-only networks.
DHCP option 82
Carrier Applications
Passpoint 2.0 Certification
RFC Support
RFC 768 UDP
RFC 791 IP
RFC 2460 IPV6 (Bridging only) RFC 792 ICMP
RFC 793 TCP
RFC 826 ARP
RFC 1122 Requirements for internet hosts – communication layers RFC 1542 BOOTP
RFC 2131 DHCP
Security
WPA
IEEE 802.11i WPA2, RSN
RFC 1321 MD5 Message-digest algorithm RFC 2246 TLS protocol version 1.0
RFC 3280 Internet X.509 PKI certificate and CRL profile RFC 4347 Datagram transport layer security
RFC 4346 TLS protocol version 1.1
Encryption Types
Open, WEP, TKIP-MIC: RC4 40, 104 and 128 bits
SSL and TLS: RC4 128-bit and RDA 1024 and 2048 bit
Authentication
IEEE 802.1x
RFC 2548 Microsoftvendor-specific RADIUS attributes RFC 2716 PPP EAP-TLS
RFC 2865 RADIUS Authentication RFC 2866 RADIUS Accounting RFC 2867 Tunnel Accounting
RFC 2869 RADIUS Extensions
RFC 3576 Dynamic Authorizations extensions to RADIUS RFC 3579 RADIUS Support for EAP
RFC 3748 EAP-PEAP
RFC 5216 EAP-TLS
RFC 5281 EAP-TTLS
RFC 2284 EAP-GTC
RFC 4186 EAP-SIM
RFC 3748 Leap Passthrough
RFC 3748 Extensible Authentication Protocol Web Page Authentication
•   WPR, Landing Page, Redirect
•   Support for Internal WPR, Landing Page and Authentication
•   Support for External WPR, Landing Page and Authentication
•   Support for Xirrus Guest Access System
Regulatory Compliance

CE Mark

EU CE Mark
EN300 328 V1.8.1,
EN 301 893 V1.7.1
EN 301 489-1 V1.9.2, EN 301 489-17 V2.2.1
EN55022/EN55024
US FCC Part 15 subparts B, C, E
FCC [47 C.F.R. 1.1307(b), 1.1310, 2.1091, 2.1093]
Canada ICES-003
Canada RSS-247
Canada RSS-102

Safety

UL60950-1 2nd Edition
CAN/CSA C22.2 No. 60950-1-07, 2nd Edition, 2011-12
EN 60950-1:2006/A2:2013
IEC 60950-1:2005/A2:2013
EN 60950-22:2006+AC:2008 (Outdoor Untis)

UL60950-22 ( Outdoor Units)
CSA C22.2 No 60950-22-07 (Outdoor Units)

Environmental Specifications
Operating Temperature: 0-55C, 0-90% humidity, non-condensing Storage Temperature:  -40C to 70C
Channel Support 2.4GHz
(Channel selections are based upon country code selections)
1, 2, 3, 4, 5, 6, 7, 8, 9, 10, 11, 12, 13, 14
Channel Support 5GHz
(Channel selections are based upon country code selections)
U-NII-1 – Non-DFS channels 36 40 44 48
U-NII-2A DFS channels* 52 56 60 64
U-NII-2C DFS channels*
100 104 108 112 116 120 124 128 132 136 140 144
U-NII-3 Non-DFS channels 149 153 157 161 165
Management Interfaces
Command line interface Web interface (http / https)
Xirrus Management System (XMS) XMS-Cloud
XMS-Enterprise
Management
SNMP v1, v2c, v3 RFC 854 Telnet
RFC 1155 Management Information for TCP/IP Based Internets
RFC 1156 MIB
RFC 1157 SNMP
RFC 1212 Concise MIB Definitions RFC 1213 SNMP MIB II
RFC 1215 A Convention for Defining Traps for use with the SNMP
RFC 1350 TFTP
RFC 1643 Ethernet MIB
RFC 2030 Simple Network Time Protocol SNTP RFC 2578 Structure of Management Information Version 2 (SMIv2)
RFC 2579 Textual Conventions for SMIv2 RFC 2616 HTTP 1.1
RFC 2665 Definitions of Managed Objects for the Ethernet Like Interface Types
RFC 2674 Definitions of Managed Objects for Bridges with Traffic Classes, Multicast Filtering and Virtual LAN Extensions
RFC 2819 Remote Network Monitoring Management Information Base RFC 2863 The Interface Group MIB
RFC 3164 BSD Syslog Protocol
RFC 3414 User-based Security Model (USM) for version 3 of the Simple Network Management Protocol (SNMPv3)
RFC 3416 Version 2 of the Protocol Operations for the Simple Network Management Protocol (SNMP)
RFC 3417 Transport Mappings for the Simple Network Management Protocol (SNMP)
RFC 3418 Management Information Base (MIB) for the Simple Network Management Protocol (SNMP)
RFC 3584 Coexistence between Version 1, Version 2, and Version 3 of the Internet-standard Network Management Framework
RFC 3636 Definitions of Managed Objects for IEEE Xirrus Private MIBs Integration with Splunk for accurate search and analysis of intra- organizational IT events
Netflow Export v9 and IPFIX compatibility allows for IP traffic statistics collection
+ Some features may not be available on X2 APs * Available only on 802.11ac platforms
Comparision:
Right Sized Wi-Fi For Every Use
| Model | XR-320 | X2 | XR-600 | XD2 | XD4 | XR-2000 | XR-4000 | XR-6000 |
| --- | --- | --- | --- | --- | --- | --- | --- | --- |
| Max Number of Radios | 2 | 2 | 2 | 2 | 4 | 4 | 8 | 16 |
| Technology | 11ac Wave 1 | 11ac Wave 1 | 11ac Wave 1 | 11ac Wave 2 | 11ac Wave 1 | 11ac Wave 1 | 11ac Wave 1 | 11ac Wave 1 |
| Technology Upgradable | NA | NA | NA | NA | NA | 11ac Wave 2 | 11ac Wave 2 | 11ac Wave 2 |
| TurboXpress (all radios 11ac) | NA | NA | Yes | Yes | Yes | Yes | Yes | Yes |
| Controller | Integrated | Integrated | Integrated | Integrated | Integrated | Integrated | Integrated | Integrated |
| Uplinks | 1 GigE | 1 GigE | 2 GigE | 2 GigE | 2 GigE | 2 GigE | 2 GigE | 4 GigE/1-10 GigE |
| Example Uses | Hotels / Dorms / Hospitals / Offices | Offices / Hotels / Classrooms / Retail | Offices / Classrooms / Hospitals / Retail | Dense Offices / Classrooms / Hospitals | Dense Offices / Classrooms / Conf Rooms | Dense Offices / Classrooms / Conf Rooms | Libraries / Auditoriums / Conventions | Auditoriums / Conventions / Arenas |
Outdoor Wi-Fi Portfolio
| Product Series | XR-520H | XH2 |  XR-2425H |  Outdoor Enclosures / HD Access Points |
| --- | --- | --- | --- | --- |
| Number of Radios | 2 | 2 | 4 | 4-16 |
| Technology | 802.11n | 802.11ac | 802.11n | 802.11ac |
| Technology Upgradable | NA | NA | NA | Yes – 11ac Wave 2 |
| TurboXpress (all radios on 5GHz) | Yes | Yes | Yes | Yes |
| Controller | Integrated | Integrated | Integrated | Integrated |
| Uplinks | 1 GigE | 2 GigE | 2 GigE | Up to 4 GigE & 1-10 GigE |
| Example Uses | General Coverage / Warehouses | General Coverage / Stadiums/Arenas | Outdoor Event Venues / Stadiums/Arenas | Outdoor Event Venues / Stadiums/Arenas |